Clara Martin Center Crisis Line: 1-800-639-6360
Counseling Service of Addison County Crisis Line: 1-802-388-7641
Howard Center Crisis Line: 1-802-488-7777 (First Call for Chittenden County)
Healthcare and Rehabiliation Services Crisis Line: 1-800-622-4235
Lamoille County Mental Health Crisis Line: 1-802-888-5026 
Northwestern Counseling and Support Services Crisis Line: 1-802-524-6554
Northeast Kingdom Human Services Crisis Line: (Derby) 1-802-334-6744 (St. Johnsbury) 1-802-748-3181
Pathways Peer Support Line call or text 1-833-888-2557 
Rutland Mental Health Services Crisis Line: 1-802-775-1000
United Counseling Service Crisis Line: (Manchester) 1-802-362-3950 (Bennington) 1-802-442-5491
Washington County Mental Health Crisis Line: 1-802-229-0591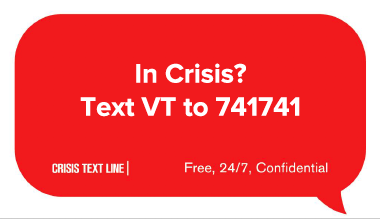 FREE SUPPORT AT YOUR FINGERTIPS, 24/7
Crisis Text Line serves anyone, in any type of crisis, providing access to free, 24/7 support and information via the medium people already use and trust: text.
Here's how it works:
1. Text "VT" to 741741 from anywhere in the USA, anytime, about any type of crisis. 
2. A live, trained Crisis Counselor receives the text and responds quickly. 
3. The volunteer Crisis Counselor will help you move from a hot moment to a cool moment. 
For more information please visit http://vtcrisistextline.org/.
Other helpful resources are the National Suicide and Crisis Lifeline which can be reached by calling or texting 988 or Vermont 2-1-1.